Categories:
Louis Vuitton
Introducing the Louis Vuitton Monogram Canvas Popincourt. The brand has brought back the iconic bag, that was first released in 2005. The bag which was named after a Paris market, was unfortunately discontinued sometime in 2010. The original design features two new styles, the Popincourt Haut which is a shoulder bag, and the Popincourt, a smaller size with top handles. For Spring/Summer 2017, Louis Vuitton has updated the design of the bag that is still made of their signature Monogram Canvas. It now comes with a colored calf-leather trim like Black, Saforn Imperial, Red, Marine, Taupe Glace and Raisin. It has two handles and includes a removable and adjustable shoulder strap. The exterior of the bag features a zippered pocket with a padlock. The interior is made of micro-fiber lining with 2 smartphone pockets and 2 large outside pockets. Available in 2 sizes, MM and PM.
Check out the original version of the Popincourt bags:

Style, Price & Size
| Style | Price | Size |
| --- | --- | --- |
| Louis Vuitton Monogram Canvas Popincourt MM Bag | $2,640.00 (USD) | 14.1" L x 10" H x 5.7" W |
| Louis Vuitton Monogram Canvas Popincourt PM Bag | $2,370.00 (USD) | 12.6" L x 8.3" H x 5.1" W |
Gallery
Tags: Louis Vuitton bag Monogram Canvas Popincourt
comnum(0) tbcount(0) tbcount(291)
Categories:
Louis Vuitton
IMAGE: LOUIS VUITTON
For ladies who love everything about the Palm Springs Backpack but have been waiting for something more substantial, this post is dedicated to you. From Louis Vuitton comes the newish Monogram Empreinte Sorbonne Backpack that has been released in 3 easy-to-match colours, namely Cerise, Noir and Rose Poudre. And while it's not exactly 100% similar in terms of style to the PS, it's close enough, especially when you're distracted by the stamped buttery soft leather.
Its features are simple enough, its 27 cm by 25 cm body sporting a top handle, slings at the back (you know, to wear it like a backpack) and finished with a front zip pocket. Only available in this single size at the moment (the Sorbonne is slightly shorter than the Palm Springs PM Backpack but what it lacks in height, it makes up for in length and width), it is perfect for those who believe small is good and smaller is even better.
Great for a day out with sufficient interior pockets – zippered ones for your important essentials, and smartphone pockets for you to keep it all in safely and being truly handsfree while you're out and about, the Sorbonne retails for SGD3450 (full leather, that's why) and is currently available at all 3 LV boutiques in Singapore.
Tags: Louis Vuitton Monogram Empreinte Backpack Sorbonne
comnum(0) tbcount(0) tbcount(242)
Categories:
Other Brands
Taking its inspiration from the original classic Saint Laurent Monogram Bag comes a newer tailored version of it in Dylan Monogram Saint Laurent Satchel Leather. Yes, we are definitely talking about this beauty right here, something that your eyes shouldn't dare to miss.
As if the gold-like YSL logo on the front won't consume your heart with a desire to buy it pronto, here we are giving you more reasons to love it even more. So this is a Saint Laurent flap front bag with accordion sides giving you enough space to carry your essentials. It also has a leather strap that can be worn over the shoulder or cross body, whichever style suits you best. The metal interlocking YSL signature is a definite winner for us! I also have magnetic snap closure, vintage-gold tone hardware, and suede lining for a more classic and elegant look.
The interior features a slot pocket with large compartment to store all your daily essentials. Crafted from calfskin, measuring 24 x 15.5 x 4.5 cm and priced at $1450 USD or €1390 euro via Saint Laurent boutiques.
Tags: bag Monogram Saint Laurent DYLAN
comnum(0) tbcount(0) tbcount(323)
Categories:
Other Brands
This Pre-Fall 2016, Saint Laurent has released a new version of the Monogram Cabas Bag. The new design now comes with an expandable gusseted side panels that was not present in the original version and has the same dimensions. It still features the interlocking YSL signature buckle closure. This season's version no longer have the buckles on the tubular handles. The interior is unlined and includes a slot pocket. It has a double zip top and a thick removable shoulder strap. Price is a few dollars higher compared on the original style, the new price is $2,490.00 (USD) for the Small Cabas, while old design is priced at $2,450.00 (USD).
Check out the comparisons between the new and original designs.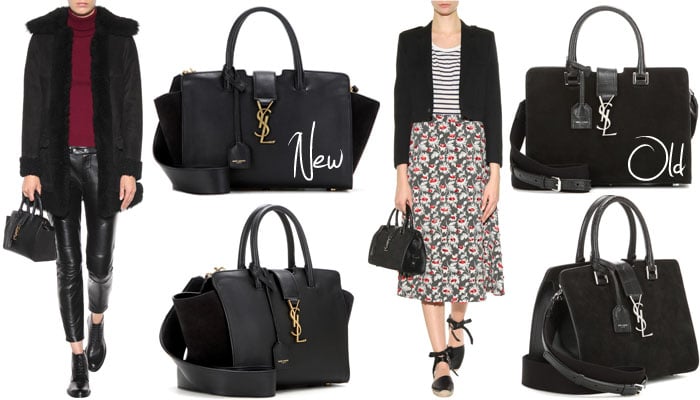 Style, Price & Size
| Style | Price | Size |
| --- | --- | --- |
| Saint Laurent Leather/Suede Small Monogram Cabas Bag | $2,490.00 (USD) | 17.2" x 8.6" x 5.8" |
| Saint Laurent Suede Small Monogram Cabas Bag | $2,490.00 (USD) | |
| Saint Laurent Leather/Crocodile Embossed Small Monogram Cabas Bag | $2,490.00 (USD) | |
| Saint Laurent Leather/Zebra Printed Cowhide Small Monogram Cabas Bag | $2,490.00 (USD) | |
| Saint Laurent Leather/Suede Baby Monogram Cabas Bag | $2,150.00 (USD) | 14.0" x 7.6" 4.7" |
Gallery
Tags: bag Monogram Saint Laurent Cabas
comnum(0) tbcount(0) tbcount(217)
Categories:
Louis Vuitton
Presenting the Louis Vuitton Monogram Eclipse Collection. The newest variation of the iconic Monogram Canvas features grey and black colors which has been inspired by the black leather of the Malle Courrier from the Louis Vuitton archives. The collection was presented during the Men's Fall/Winter 2016 runway show. It includes handbags, shoes, travel items and small leather goods. The Monogram Eclipse is made of mat smooth leather with dark grey shiny metallic pieces.
The Monogram Eclipse Collection will be available in selected Louis Vuitton boutiques and online starting on July 15, 2016.
Gallery
Tags: Louis Vuitton Monogram ECLIPSE
comnum(0) tbcount(0) tbcount(193)
Categories:
Louis Vuitton
Louis Vuitton has recently launched its new menswear collection inspired by sailing and marine world. The new collection, an America's cup themed is created in honor of the 35th edition of the Louis Vuitton America' Cup. Since 1983, the America's Cup and Louis Vuitton have been working closely. In celebration of the Louis Vuitton America's Cup World Series, the luxury brand has unveiled a new menswear collection that remains in tune with the casual elegance of the yachting event.
Louis Vuitton latest menswear collection features a range of casual wear, from cargo shorts, comfortable knits, polo shorts and outerwear in the signature of shades of white, blue and red. The America' Themed collection also includes numerous accessories like sporty Regatta sneaker, Josh Regatta backpack, Bandouliere 45 Regatta Keepall, etc. More items added to the collection as the final year of the race 2017 draws close.
The famous luxury brand celebrates lifestyle and leisure with its new collection. And leading the race is the iconic Steamer Bag Regatta which also happens to be the most expensive piece in the menswear collection. The Monogram Macassar Regatta Steamer Bag pays respect to the legacy of the luxury brand and history of Louis Vuitton.
The Steamer Bag Regatta is a travel bag for men, originally created in 1901 and relaunched by the fashion house to celebrate its partnership with the America's cup. The bag has a distinctive shape that takes after the sailor's original laundry bag. It is also designed to match the steamer trunks that the luxury brand had been producing since its launch 162 years ago (1854).
The 21st reincarnation of Louis Vuitton iconic Monogram Macassar Regatta bag is now available for $6, 050. This handsome bag represents the old world charm that no one can resist. The new version still carries the distinctive tri-coloured monogram that Gaston, Louis's grandson designed for Louis Vuitton love of travelling.
The travel bag offers ample storage space. This bag has a measurement of about 52 cm height, 44.9 cm wide and 20 cm depth. It has a protective underside feet, textile lining, monogram coated exterior, leather strap, and padlock to ensure proper closing.
Tags: Louis Vuitton bag Monogram Steamer Macassar
Designer Bags, Wallet, Purse, Belt & Accessories Official Site, Best Price & Quality, Free Worldwide Shipping, Free Returns. Each Bag Is A Work Of Art - Handmade - Cowhide Art - Can Custom-Made

Categories

New Posts

Hot Posts