Categories:
Other Brands
What could be a more powerful statement than with a Givenchy bag and love quote at the same time? We are definitely talking about this basic Givenchy I Believe In The Power Of Love Tote, which comes in abstract black and white design.
This printed tote bag is simple yet the style is on point. Its classic shopper design is sizable and its chic monochromatic motif with the statement "I believe in the power of love" is something we're proud to wear over our shoulders. What made it lovelier is the fact that it has a detachable internal pouch that doubles as a clutch whenever you need to run for a quick coffee fix or cocktail hour.
Show your faith in romance with this classic shopper design in generous size. This bag is ideal for the fashionista distinguish themselves from the crowd and at the same time you can help spread a little love to the world.
Measuring 14.5' x 14' x 6.5' (H x W x D) inches and is priced €1050 euro or $1250 USD via MyTheresa.
comnum(0) tbcount(0) tbcount(245)
Categories:
Fashion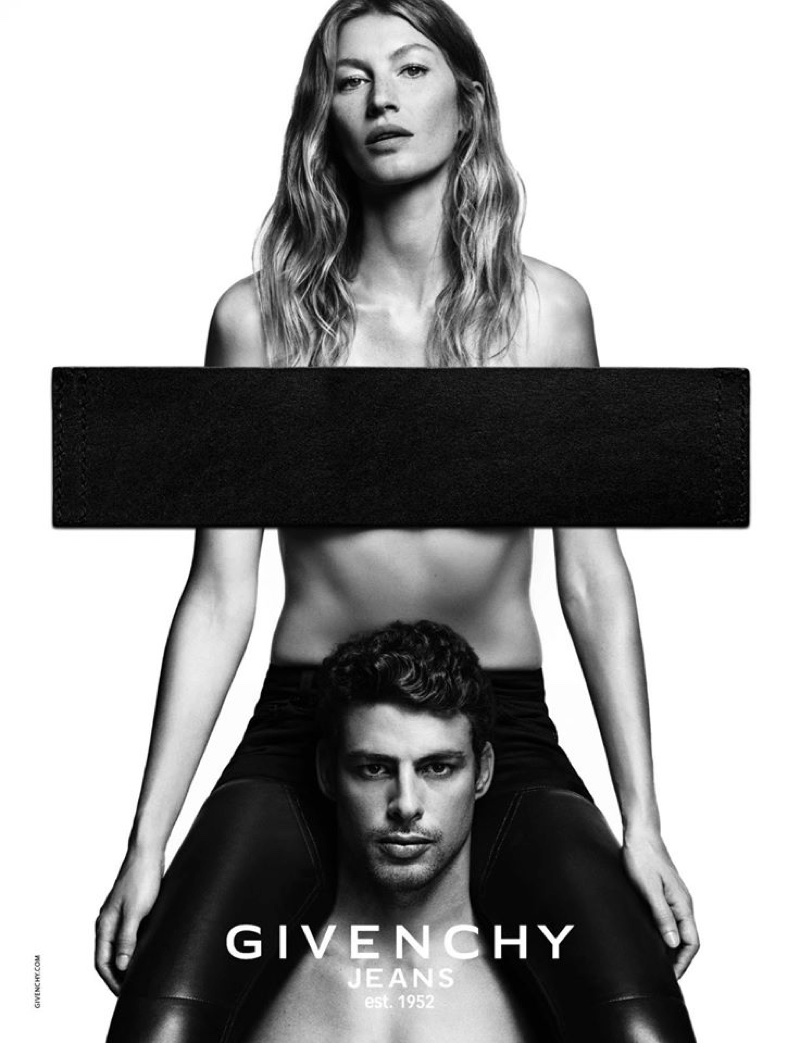 Gisele Bundchen goes topless in Givenchy Jeans 2016 campaign
Givenchy Jeans' latest campaign stars yet another supermodel. As with previous seasons, Gisele Bundchen goes topless in the Italian luxury brand's advertisements. Past stars include Irina Shayk and Candice Swanepoel. Photographed in black and white by Luigi and Iango, the Brazilian beauty poses alongside Cauã Reymond in slim-fit denim.
In each shot, Gisele goes sans a t-shirt with denim featuring leather details and stars on the back pockets. The pair was styled by Carine Roitfeld with art direction by Studio 191. Luigi Murenu worked on Gisele's wavy tresses with makeup by Georgi Sandev.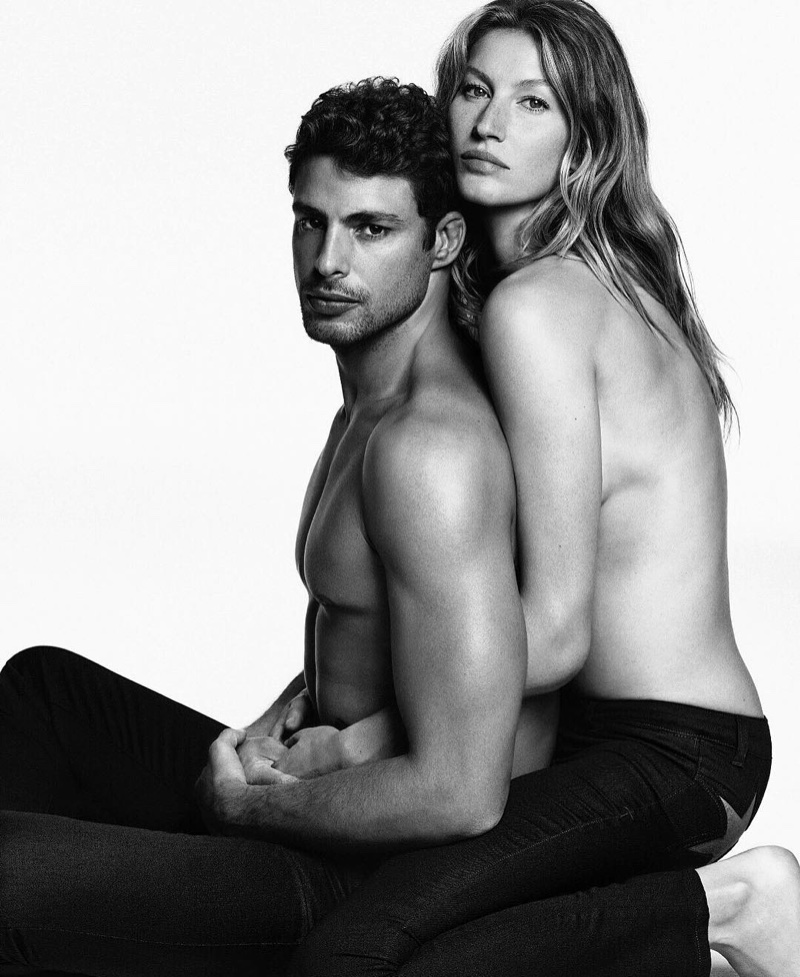 Gisele Bundchen gets up close and personal with Cauã Reymond in Givenchy's 2016 campaign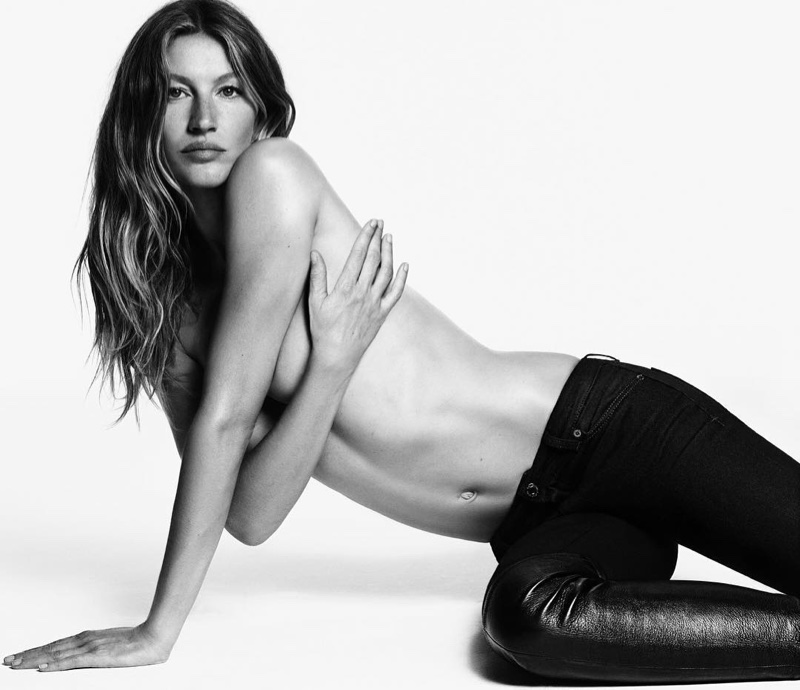 Gisele Bundchen wears form-fitting denim in Givenchy Jeans campaign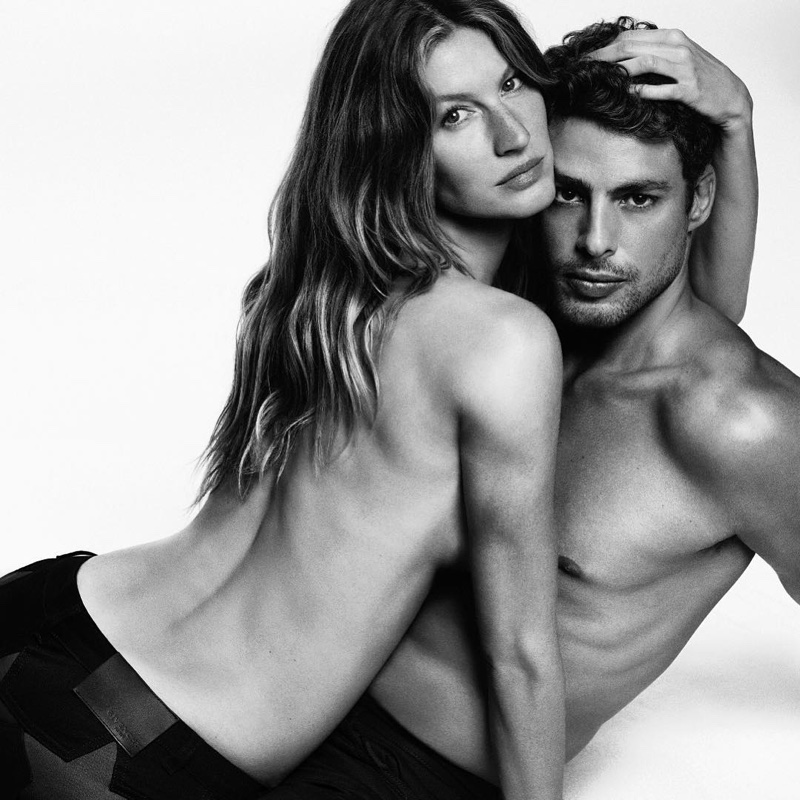 Gisele Bundchen poses in Givenchy Jeans 2016 campaign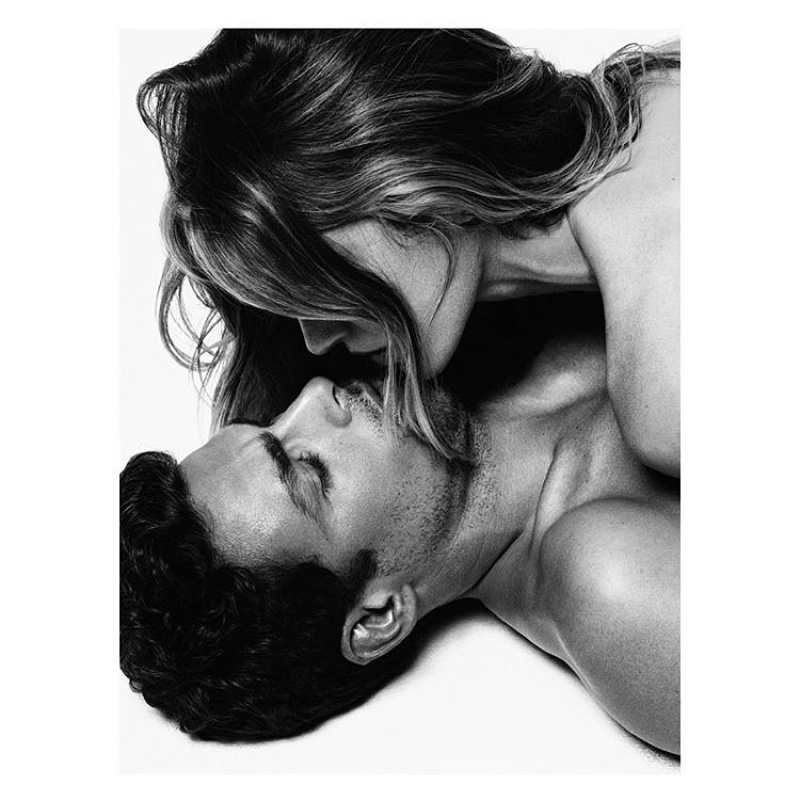 Gisele Bundchen and Cauã Reymond behind the scenes on Givenchy Jeans campaign shoot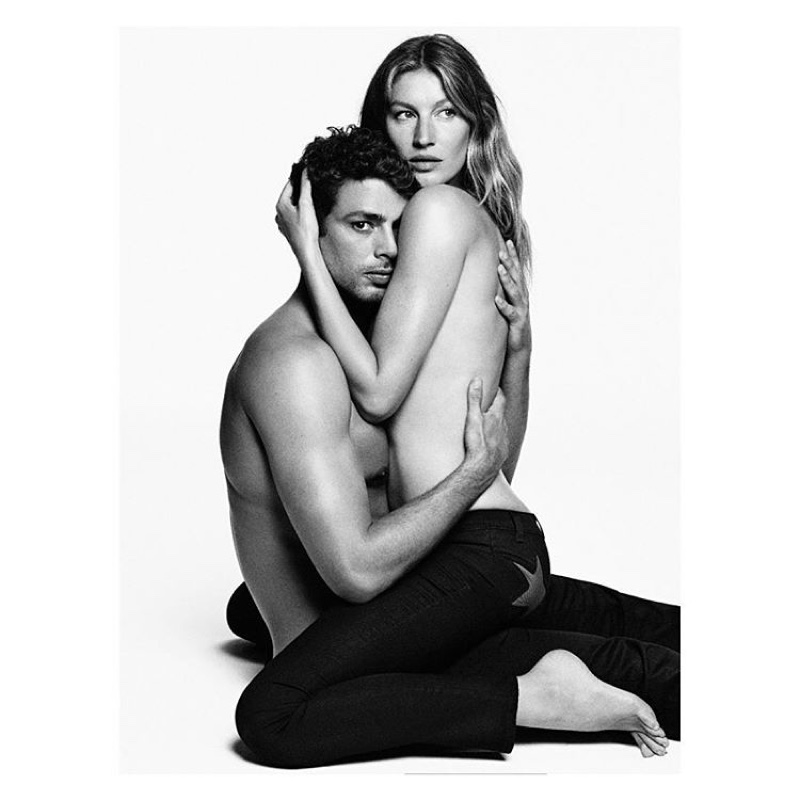 Gisele Bundchen and Cauã Reymond behind the scenes on Givenchy Jeans campaign shoot
comnum(0) tbcount(0) tbcount(270)
Categories:
Other Brands
"Though she be but little, she is fierce". This quote from Shakespeare is so apt and appropriate for the Micro Nightingale bag which is the smallest/tiniest size available for this particular holy grail/ it bag from Givenchy.
Trendy, up-to-date but with utility in mind, the Nightingale bag gained its worldwide phenomenon when it was introduced in late 2006 and since then, it has been a style staple among Hollywood celebrities and bag lovers out there.
Over the years, we've seen the Nightingale bag made in several sizes, colors and materials and this time around, it comes in the tiniest size you could ever imagine! For the Micro Nightingale, it comes in four different colors that you can choose from: light blue, black, old pink and oxblood.
The bag is made up of calfskin leather with canvas lining and silver-tone hardware, has adjustable and detachable shoulder strap, dual zip closure and an interior pocket and zip pocket.
It measures 11′ x 6.5′ x 3′ (W x H x D) inches, priced at $1790 USD via Elyse Walker.
Tags: bag Givenchy Micro NIGHTINGALE
comnum(0) tbcount(0) tbcount(241)
Categories:
Other Brands
Simple and unassuming yet beautifully crafted, these may be the best words to describe Givenchy's Debossed Tote Bag. Sporting a dark ebony color, it looks sophisticated and chic from all its angles.
Despite its simplicity, this Debossed tote bag from Givenchy will compensate you with its high quality materials. Yes, it is made from pure, smooth calfskin leather with raw lining and has a detachable logo embossed pochette with zip top closure.
This an ideal go-to bag whenever you head out to the supermarket or whenever you need last to do last-mining shopping as you can easily store and stash your goodies inside the bag, thanks to its open top. The pochette is also perfect for keeping your essentials such as your makeup, smartphone and car keys.
This is the new Givenchy Tote Bag with the brand's signature crafted in 3D on the front 'GIVENCHY PARIS'.
It measures 14′ x 14.5′ x 6.5′ (W x H x D) inches, priced at $1590 USD via Forward by Elyse Walker.
Tags: bag Givenchy Tote DEBOSSED
comnum(0) tbcount(0) tbcount(306)
Categories:
Other Brands
It's as if two or more bags isn't enough, Givenchy's Fall 2016 Seasonal Bag Collection will then catch your attention before you even manage to say No. Let's talk about these two particular bags that has caught our attention.
First off is this lovely Small Cross Body Bag with 'Givenchy Paris' debossed on its fine and smooth black leather. We like the simplicity and exquisiteness of this shoulder bag. Its plain design isn't washed out entirely because the debossed logo made it a complete standout. That's what we want in a bag: simple yet has a signature statement.
Another one that is on our list is this Chain Wallet in Smooth Leather with Metal Crosses. Yes, definitely a style stunner, this chain wallet is perfect for those sweet yet swift errands that you have to attend to during the weekends since you need not be stashing a lot of things inside your wallet on chain bag. And oh, this also goes pretty great for that certified punk look especially when you go to metal/rock concerts with your equally cool girlfriends.
Tags: bag Givenchy Shoulder Paris
comnum(0) tbcount(0) tbcount(254)
Categories:
Other Brands
Introducing the Givenchy Pre-Fall 2016 Bag Collection. The brand's newest bag, the Horizon Tote Bag is introduced this season. Givenchy's classic handbags such as the Antigona, Pandora, Shark and Nightingale Bags are seen in embellishments like metal crosses and studs, as well as new Dalmatian print in Goat fur. Stamped and debossed Givenchy logo are also presented in this season's handbags. The colors this season are mostly in black, oxblood and beige, while the Antigona bags comes in new metallic colors.
Horizon Bags
| Style | Price |
| --- | --- |
| Givenchy Horizon Small Bag | $2,490.00 (USD) |
| Givenchy Horizon Medium Bag | $2,690.00 (USD) |
Antigona Bags
| Style | Price |
| --- | --- |
| Givenchy Embellished with Metal Crosses Small Antigona Shopper Bag | $2,150.00 (USD) |
| Givenchy Star Studded Antigona Medium Bag | $3,290.00 (USD) |
| Givenchy Studded Antigona Small Bag | $2,280.00 (USD) |
| Givenchy Studded Medium Antigona Pouch Bag | TBD |
| Givenchy Medium Antigona Bag with Metal Details | $2.890.00 (USD) |
| Givenchy Mini Antigona Bag with Metal Details | TBD |
| Givenchy Metallic Antigona Small Bag | $2,280.00 (USD) |
| Givenchy Metallic Antigona Mini Bag | $1,750.00 (USD) |
Nightingale Bags
| Style | Price |
| --- | --- |
| Givenchy Embellished with Metal Crosses Nightingale Medium Bag | TBD |
| Givenchy Embellished with Metal Crosses Nightingale Micro Bag | TBD |
| Givenchy Dalmatian Print Goat Fur Nightingale Small Bag | $3,490.00 (USD) |
Pandora Bags
| Style | Price |
| --- | --- |
| Givenchy Embellished with Metal Crosses Pandora Medium Bag | $2,450.00 (USD) |
| Givenchy Embellished with Metal Crosses Pandora Mini Bag | $1,550.00 (USD) |
| Givenchy Patent Pandora Box Mini Bag | $1,950.00 (USD) |
| Givenchy Stamped Givenchy Logo Pandora Box Medium Bag | TBD |
| Givenchy Stamped Givenchy Logo Pandora Box Minaudiere Bag | TBD |
| Givenchy Star Pandora Chain Wallet Bag | $1,210.00 (USD) |
Bow-Cut Bags
| Style | Price |
| --- | --- |
| Givenchy Studded Bow Cut with Chain Mini Bag | $1,790.00 (USD) |
| Givenchy Embellished with Metal Crosses Bow-Cut Mini Bag | TBD |
| Givenchy Mini Bow-Cut Bag | $1,390.00 (USD) |
| Givenchy Bow-Cut Crossbody with Chain Bag | $1,750.00 (USD) |
| Givenchy Embellished with Metal Crosses Bow-Cut Cross-Body with Chain Bag | $2,150.00 (USD) |
Shark and Lucrezia Bags
| Style | Price |
| --- | --- |
| Givenchy Orange Bow-Cut Crossbody with Chain Bag | TBD |
| Givenchy Medium Shark Bag with Metal Details | TBD |
| Givenchy Small Shark Bag | $2,190.00 (USD) |
| Givenchy Star Micro Lucrezia Micro Bag | $1,425.00 (USD) |
| Givenchy Stamped Givenchy Logo Lucrezia Medium Bag | TBD |
Other Bags
| Style | Price |
| --- | --- |
| Givenchy Love Tote Bag | $1,590.00 (USD) |
| Givenchy Love Large Flat Pouch Bag | TBD |
| Givenchy Love Medium Flat Pouch Bag | $580.00 (USD) |
| Givenchy Debossed Logo Tote Bag | $1,590.00 (USD) |
| Givenchy Debossed Logo Crossbody Bag | $990.00 (USD) |
| Style | Price |
| --- | --- |
| Givenchy Debossed Logo Small Cross Body Bag | TBD |
| Givenchy Embellished with Metal Crosses Chain Wallet Bag | TBD |
| Givenchy Small Stargate Tote Bag | $1,150.00 (USD) |
| Givenchy Star Backpack Small Bag | $1,825.00 (USD) |
| Givenchy Floral Print Nylon Small Backpack Bag | $1,320.00 (USD) |
Tags: bag Givenchy Pre-Fall 2016
Designer Bags, Wallet, Purse, Belt & Accessories Official Site, Best Price & Quality, Free Worldwide Shipping, Free Returns. Each Bag Is A Work Of Art - Handmade - Cowhide Art - Can Custom-Made

Categories

New Posts

Hot Posts